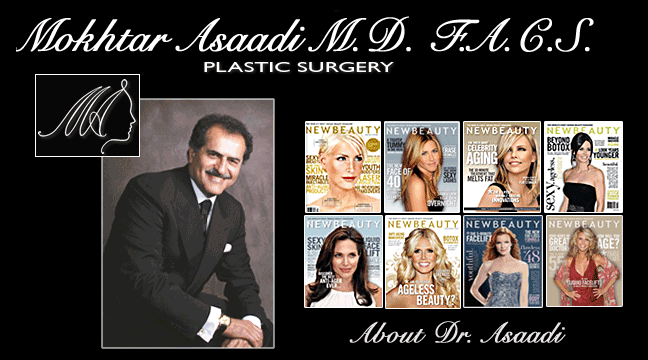 Dr. Asaadi received his medical degree from the Pahlavi University Medical School. He completed his post-doctoral training at Manhattan Eye, Ear, & Throat Hospital, NYC, Southern Illinois University, IL, and St. Barnabas Medical Center, NJ. He is board certified by the American Board of Surgery and the American Board of Plastic Surgery. He is the past chairman of the plastic surgery department of St. Barnabas Medical Center. He is also a member of the American Society of Plastic Surgeons, American Society of Aesthetic Plastic Surgeons, American College of Surgeons, American Medical Association, Lipoplasty Society, New York Regional Society of Plastic Surgeons, and New Jersey Society of Plastic Surgeons. He was the recipient of the Heyer Schulte Award for Excellence in Surgery. His twenty years in practice have allowed him to innovate and integrate the newest techniques in the field of plastic surgery. Presently his practice is concentrated on cosmetic plastic surgery of the face & body.
Click here to read more about Dr. Asaadi
We are pleased to have Dr. Mohktar Asaadi as a Medical Director of Bella Boutique Medispa!

Call Bella at 973-579-7709 to get Dr. Asaadi dates!
No charge for consultations on the above procedures.
Considering other doctors and/or some that are not even plastic surgeons to perform cosmetic procedures? Look up their legal history www.njdoctorlist.com. Web site does not list any pending cases which a doctor is legally bound to tell you about upon request. EDUCATE YOURSELF TO PROTECT YOURSELF.